Over thirty different nationalities of trainee sailed to Quebec, Canada to celebrate the Rendez-Vous 2017 Tall Ships Regatta. 
The huge range of countries the trainees have come from is impressive – not only making the world a smaller place, but showing the impact the Tall Ships Races and Regattas has on developing significant international friendships.
Nationalities included: Algeria, Australia, Bermuda, Bulgaria, Canada, Chile, China, Columbia, Ecuador, Finland, Germany, Grenada, Ireland, Japan, Latvia, Malaysia, Nepal, Netherlands, Norway, Poland, Portugal, Russia, Slovenia, South Africa, Spain, Sweden, Tanzania, Tonga, UK, USA, Vietnam.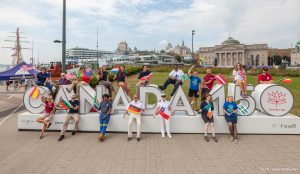 ROYAL RECOGNITION …
As part of the Canada 150 celebrations Her Majesty the Queen of England wrote a special letter to the people of Canada. Since April this letter – presented in a scroll – has been carried on board vessels in the Regatta fleet from race port to race port since leaving Royal Greenwich, UK on Wylde Swan (Netherlands). In Sines, Portugal it was passed to Jolie Brise (UK); it was passed to HMCS Oriole (Canada) by the Governor of Bermuda and in Boston (USA) it was passed to Rona II (UK) – who ceremoniously presented to at the Quebec festival.
Since the event began in April in London, many ships have joined the fleet or departed along the way. However, five vessels have been with the event from the start and four of these will be part of the fleet that departs Quebec to sail to Halifax and then race back across the Atlantic to France. These are Rona II, Blue Clipper, Jolie Brise and Peter van Danzig. The fifth, Wylde Swan, is staying in Canadian waters for another month for the Outport Programme.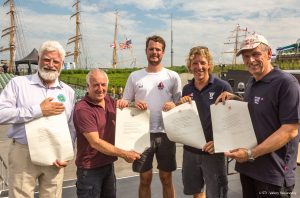 Photo: Royal Letter Captains, pictured left to right: Rona II, Blue Clipper, Jolie Brise, Wylde Swan and Peter van Danzig.
MEET THE FEMALE CAPTAINS …
The fleet of 38 ships in Quebec has four female Captains. An inspiration to young girls interested in a life at sea these ladies are in charge of some impressive ships.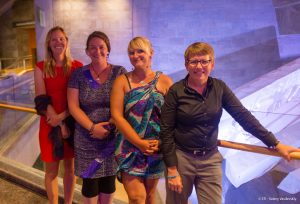 Pictured left to right, are:
Jill Hughes, Captain of Geronimo (USA), a 69 foot cutter which teaches Nautical Science and Oceanography/Marine Biology to trainees and students while on board.  Geronimo is sailing on to Halifax from Quebec, as part of the RDV2017 Tall Ships Regatta.
Elizabeth Faretek, Captain of Gaff  Schooner Appledore V  (USA) which runs environmental education and youth development programs.
Ariane Tessier-Moreau, Captain of Gaff Ketch Rotersand (Canada), which has an environmental mission to introduce trainees to the ecosystems and biodiversity in and around the St Lawrence river.
Tiffany Krihwan, Captain of Denis Sullivan (USA), a modern educational Topsail Schooner.
 What does it take to be a Captain?
A ship captain is the leader of a vessel.  They have vast experience with ships and their operation, and has likely worked their way through the ranks of other ship-related positions. The captain is responsible for all safe and efficient operations, including ship seaworthiness, ship safety and security conditions, navigation, crew management and ensuring that the vessel complies with local and international laws, as well as company and flag state policies. Their first priority is life, then pollution and third is property damage.
By way of physical work they usually don't have much to do, but their planning, execution and management of the vessel is crucial. When in port they are the ships representative and interact with the shore and various officials for getting the operations carried out smoothly.
They deal with resource management, logistical planning, rules and regulations and technical management of the vessel including budgeting.
All photos: Valery Vasilevskiy.